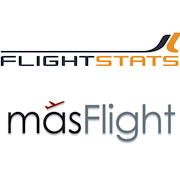 Combining FlightStats' global coverage and masFlight's
analytic solutions will help airlines and
airports to reduce delays and improve performance.
Airlines and airports gain access to global, real-time flight data to understand real-time performance of their operations.
FlightStats, Inc.
the industry-leading publisher of global flight tracking and airport information services, has partnered with
masFlight
, a pioneer in aviation operations analysis, to integrate FlightStats' real-time, global operational flight and airport data into masFlight's analysis platform for airlines and airports worldwide.
This partnership will expand the breadth and depth of real-time flight status data in masFlight's aviation data platform. masFlight's solutions enable airlines and airports to visualize, measure and improve their own operational performance and benchmark against competitors. This information is critical for improving operations, managing flight disruptions, increasing schedule reliability, reducing delays and finding new cost efficiencies. Airlines and airports using masFlight will also gain access to FlightStats' extensive archive of airline and airport data.
"FlightStats' multi-source data is the most complete real-time operational flight information available, and we are delighted to partner with masFlight," said FlightStats CEO, Jeff Kennedy. "Together, our global coverage and analytic solutions will help airlines and airports to reduce delays, improve performance, and to better serve the public."
Airlines and airports use the masFlight platform to identify the root causes of operational issues, benchmark their performance against competitors, analyze performance by marketing partners, alliances, and operating carriers, and conduct analysis of weather conditions, airport terminal facilities and runway operations. masFlight and FlightStats provide global solutions with coverage and capability across all six continents.
"The masFlight platform is a revolutionary tool for airlines and airports. We depend on the best and most accurate data partners," said Josh Marks, masFlight CEO. "FlightStats has incredible capability to collect real-time flight information around the world. Our partnership with FlightStats will significantly enhance our coverage and help airlines and airports worldwide address operational challenges."